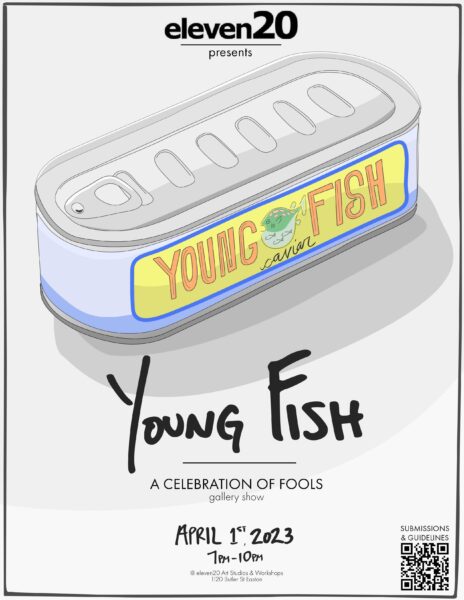 What is the meaning of April Fools? Is it simply a day for tomfoolery or is there a deeper association between the prank, the prankster, and the pranked? Though there is much speculation, for the French it was a calendar switch in the 1500s that led to the new year being celebrated at the wrong time of year. Those caught celebrating late were labeled "poisson d'avril", a young, gullible and easily caught April fish. For the Romans, during the festival of Hilaria toward the end of March, it involved disguises and the mockery of fellow citizens and even local magistrates.
Following a theme of April Fools, this gallery show will focus on the celebration of fools in all manners, both historical and contemporary. The focus on April Fools is tangential in nature given that anything can be presented as a joke. We want to embody the vibe of April Fools and feature work that exemplifies the identity of April Fools, the nature of fools, or what it means to be a fool.
Whatever your interpretation of April Fools as a day for pranks, or the interpretation of fool as a state of being, we ask only that you be thoughtful and have fun.
Show Guidelines / Important Dates
Submission window is February 1st through March 11th

Young Fish opening will be Saturday, April 1st, 2023 from 6pm until 9pm

Young Fish viewing hours will be the following three weekends between 10am and 2pm, and by appointment during the week

Young Fish closing reception will be Sunday, April 30th, 2023 from 1pm until 4pm

All forms and mediums are accepted, this includes poetry, film, music, performative art, etc. | There is limited gallery space so not all entries will be accepted. If you are submitting a sculpture / video / song / other visual or auditory medium and would like to see the space ahead of time, please reach out via email or Instagram

Each applicant can submit up to three separate pieces, five image maximum, 1mb per image maximum

File name must follow the following naming convention – "LastName-1" "LastName-2" (and so on) / any submission not following these guidelines will be immediately discarded

eleven20 Art Studios & Gallery will take a 25% cut of every sale

Applicants are required to be 18+

Young Fish aims to be a show that features artists from the Greater Lehigh Valley Area as work collection must be in person | As with all things, exceptions can be made, please email toddfrankenfield@gmail.com with the subject line – Young Fish | Location

Work must be submitted via the linked Google Form below | Video / poetry / song can be submitted directly to toddfrankenfield@gmail.com with the subject line – Young Fish | Alt Medium Submission

Work will be collected on site at eleven20 between March 12th and 25th | Currently it is not possible to accept work via mail, apologies

Work can be picked up on-site at eleven20 between May 1st and May 13th

Questions / concerns / ideas can be communicated directly to toddfrankenfield@gmail.com with the subject line – Young Fish | QCI